What is Jarvee used for?
Jarvee was a social media marketing solution that helped you automate your social media profile on various platforms such as Instagram, Twitter, Youtube and Pinterest. This app had a thorough panoply of features which covered about all of your social media needs: post scheduling, follow automation, like automation, unfollow automation, multi-account management, insights and more.
You may have heard: Jarvee is now Permanently Closed.
Here is what appears on their website since January 2023.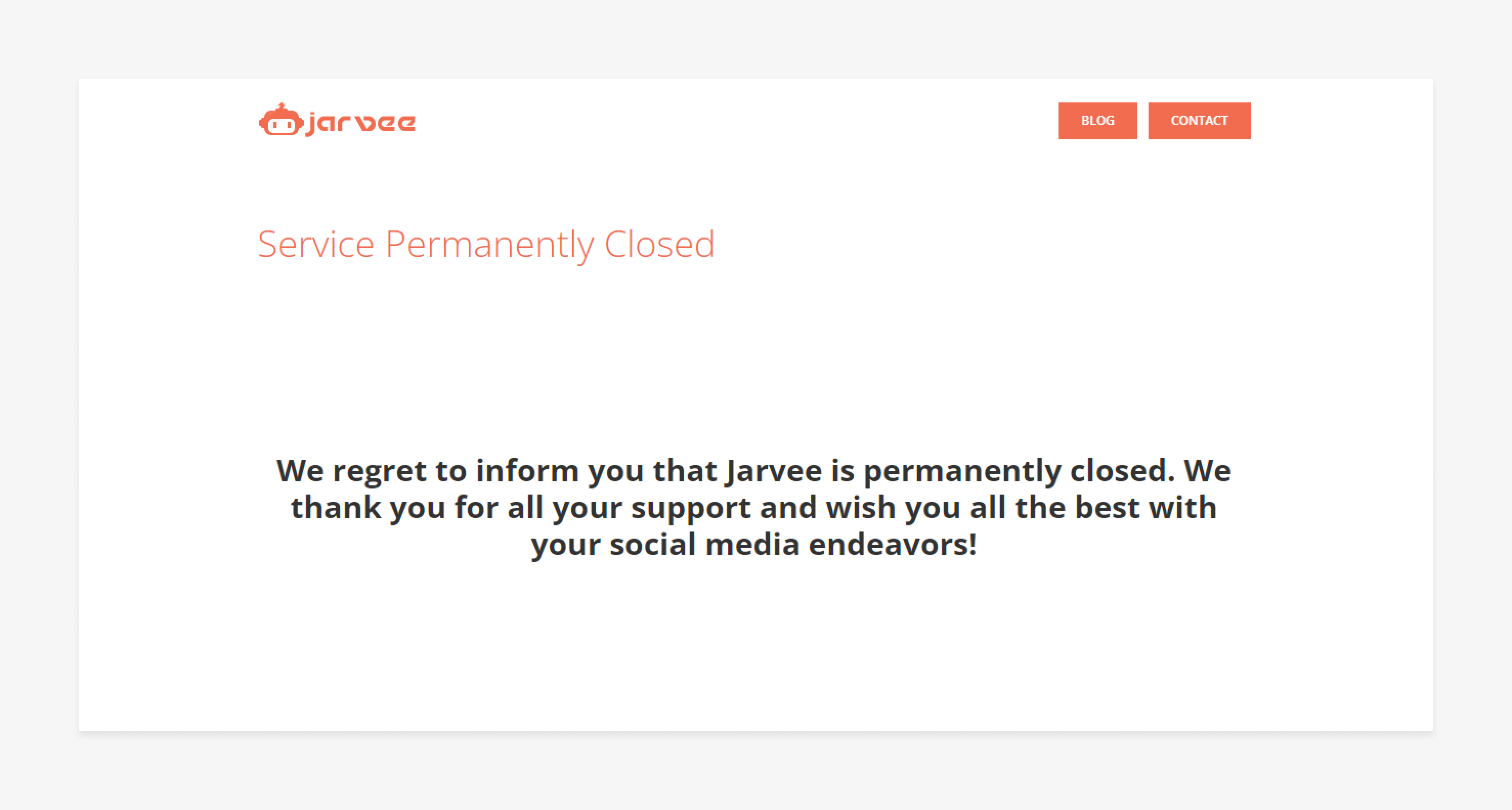 Are you looking for a free alternative to Jarvee Instagram Bot?
Whether you used to be a Jarvee user or have just discovered this name, you might be looking for a free Jarvee alternative in order to automate your Instagram account and get more followers.
In a nutshell: you won't find a good Instagram automation service that is totally free. Providing a good automation service requires the software developer to spend time building and updating, spend money on hosting, servers and communication to get new clients.
Instagram is the biggest communication channel for many individuals and businesses. Your Instagram profile is a precious tool. Therefore, you shouldn't want to look for a free low-quality automation service that could be harmful for your profile long-term.
We don't recommend using Jarvee free alternatives — unless you build your own Instagram bot with Jarvee open source alternatives such as Instapy, which will run locally on your computer. Although, instead of spending money, you'll be spending time & energy as this solution is more complex and requires technical skills.
We recommend that you opt for affordable and efficient Instagram growth softwares.
What is better than Jarvee?
When Jarvee was around, Suparise was a good alternative to Jarvee.
Now that Jarvee is permanently closed, Suparise is the best alternative to Jarvee.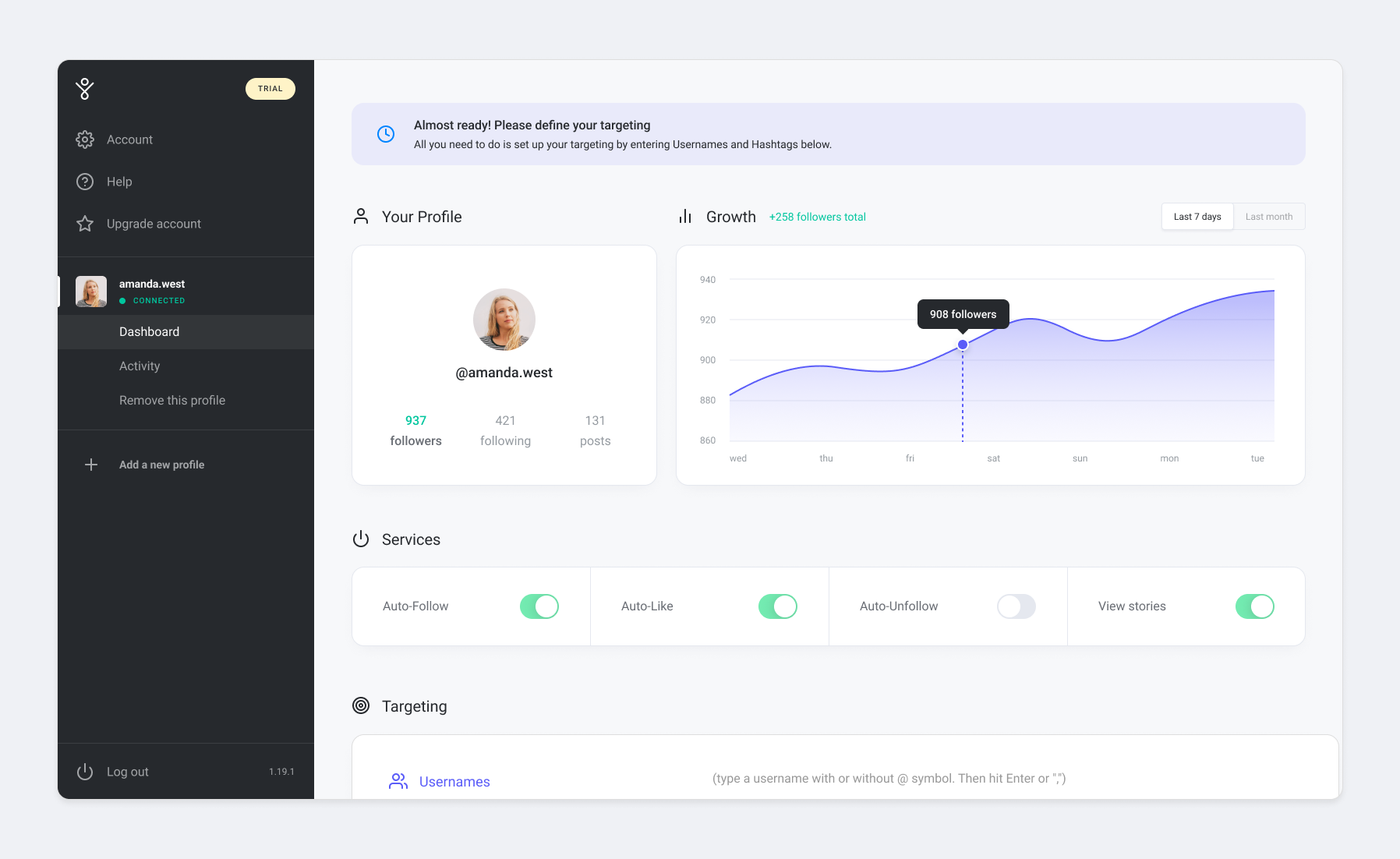 Why is Suparise better than Jarvee?
Regarding Growth, Jarvee and Suparise have the same performance. As you may know, Instagram has activity limits which prevents you from doing huge amounts of interactions. Any automation bot is limited by that and will therefore target an amount that is slightly below the limit, in order to avoid raising suspicion or getting action blocks.
Any Instagram service that announces you that they're 10x or 100x more powerful than Jarvee is plainly lying to you.
Regarding Features, Suparise is only focused on Instagram — whether Jarvee used to provide automation services for Youtube, Facebook, Linkedin, Twitter, Pinterest and Tumblr.
Is that a good thing? Probably.
About every time a social platform releases an update, developers need to re-code the app in order to provide an up-to-date automation service. If you need to monitor the recent updates of 7 social platforms, you potentially have 7 times more work to do. Unfortunately, but realistically, this can lead to some type of neglect.
Suparise provides a smaller and simpler set of features than Jarvee:
Automate following on Instagram
Automate liking on Instagram
Automate story viewer on Instagram
Automate unfollow
Smart Instagram Targeting using Usernames, Hashtags and Locations
Single-account automation
Multi-account automation using Proxies
Instagram growth free trial
Real-time monitoring
Growth reports
24/7 support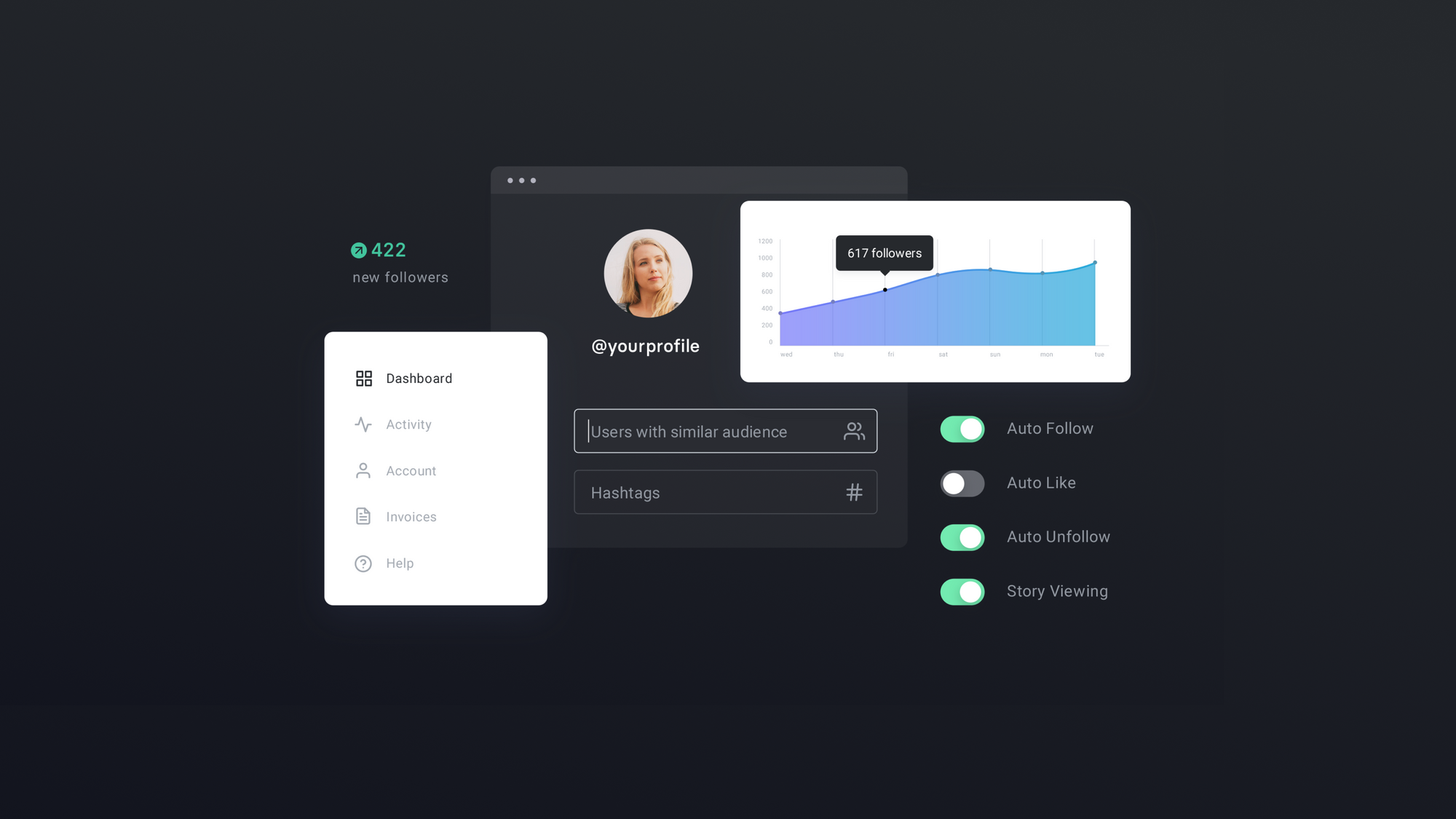 Regarding Usability, Suparise is much simpler to use than Jarvee and doesn't require much knowledge — almost none for single-account automation.
Jarvee was an impressive machine with many complex features. While it was a perfect fit for some users, that's not what most people are looking for. Most people look for a simple tool with a few parameters, which provides the same performance as a complex one.
That's exactly what Suparise is.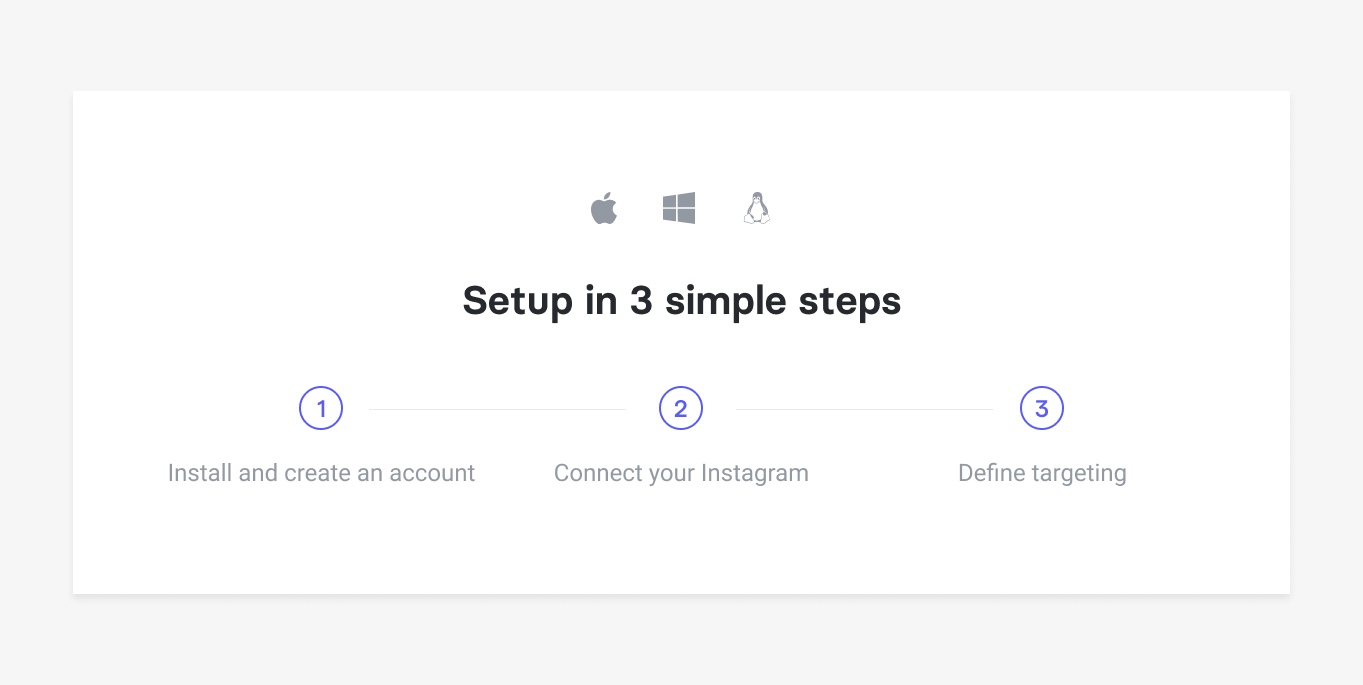 Here's the process:
Download the app on Windows, macOS or Linux
Install the app on your computer
Create a Suparise account (email & password)
Connect your Instagram profile to Suparise
Define your targeting by telling the app a few things: your competitor usernames, the hashtags your audience uses and the geographic locations of your audience
Turn on the services you want (Auto-Like, Auto-Follow, Auto-Watch Stories, Auto-Unfollow)
That's all!
How does Instagram automation work?
The logic is very simple: the Instagram bot targets and attracts real Instagram users to your profile by interacting with them (following them, liking their posts or viewing their stories). When these interactions happen, users receive notifications and might check out your profile.
This leads to visits, brand awareness raised, new likes, new comments, new followers, new visits to your bio link, new leads, new sales and new clients.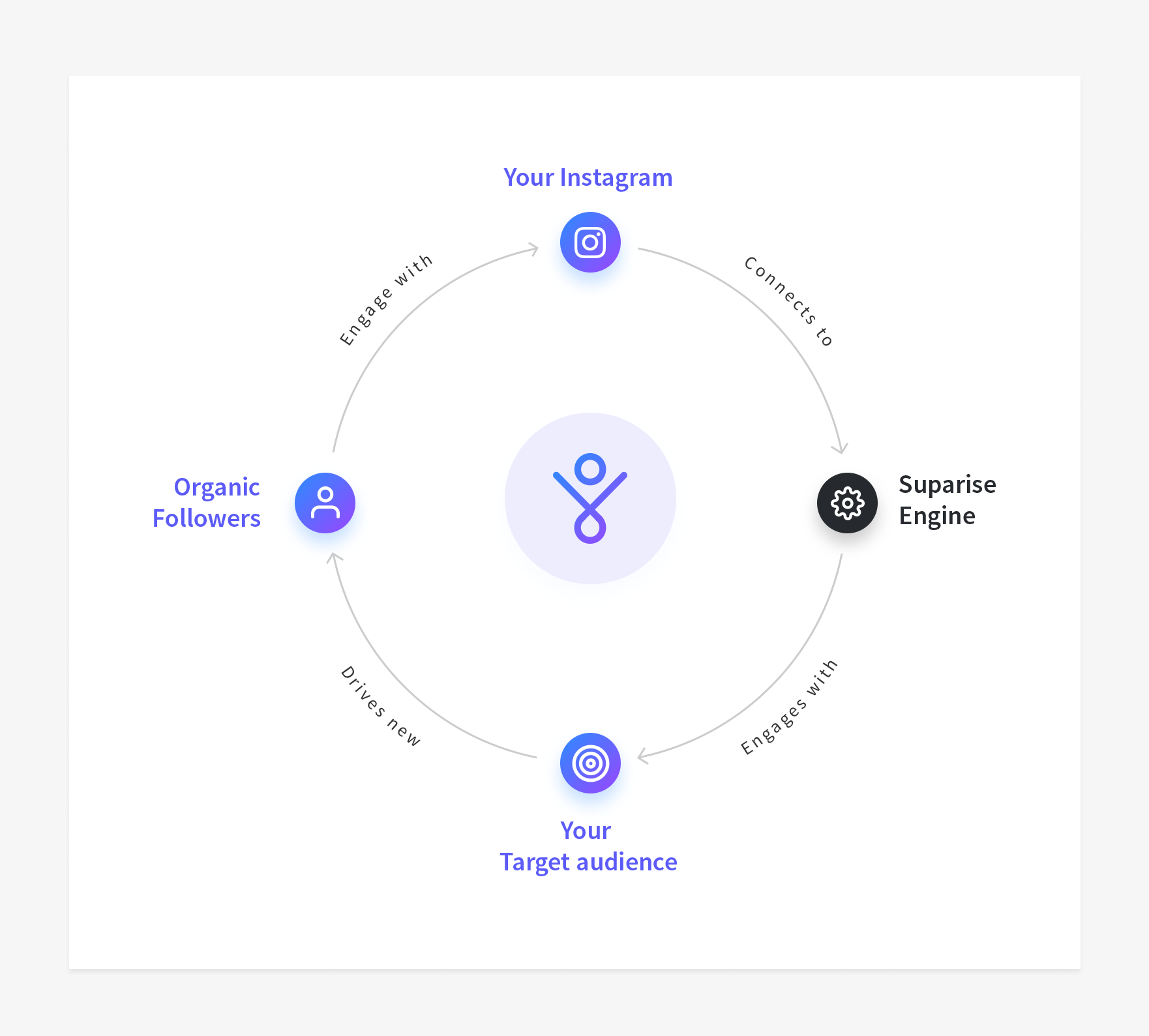 ---
Is Jarvee a bot?
Yes, Jarvee was an Instagram bot that helped you grow your Instagram account using the power of "botting" or automation. Suparise, like Jarvee, is an Instagram bot.
Is Jarvee safe to use?
Jarvee is less safe than Suparise, as it gives you a lot of freedom regarding automation settings. If you don't have a lot of experience, Jarvee can be harmful for your account. Suparise has a limited amount of settings which provide a safer Instagram growth method: you cannot input settings that will result in your account getting banned.
---
Want to learn more about Suparise?
Check out our website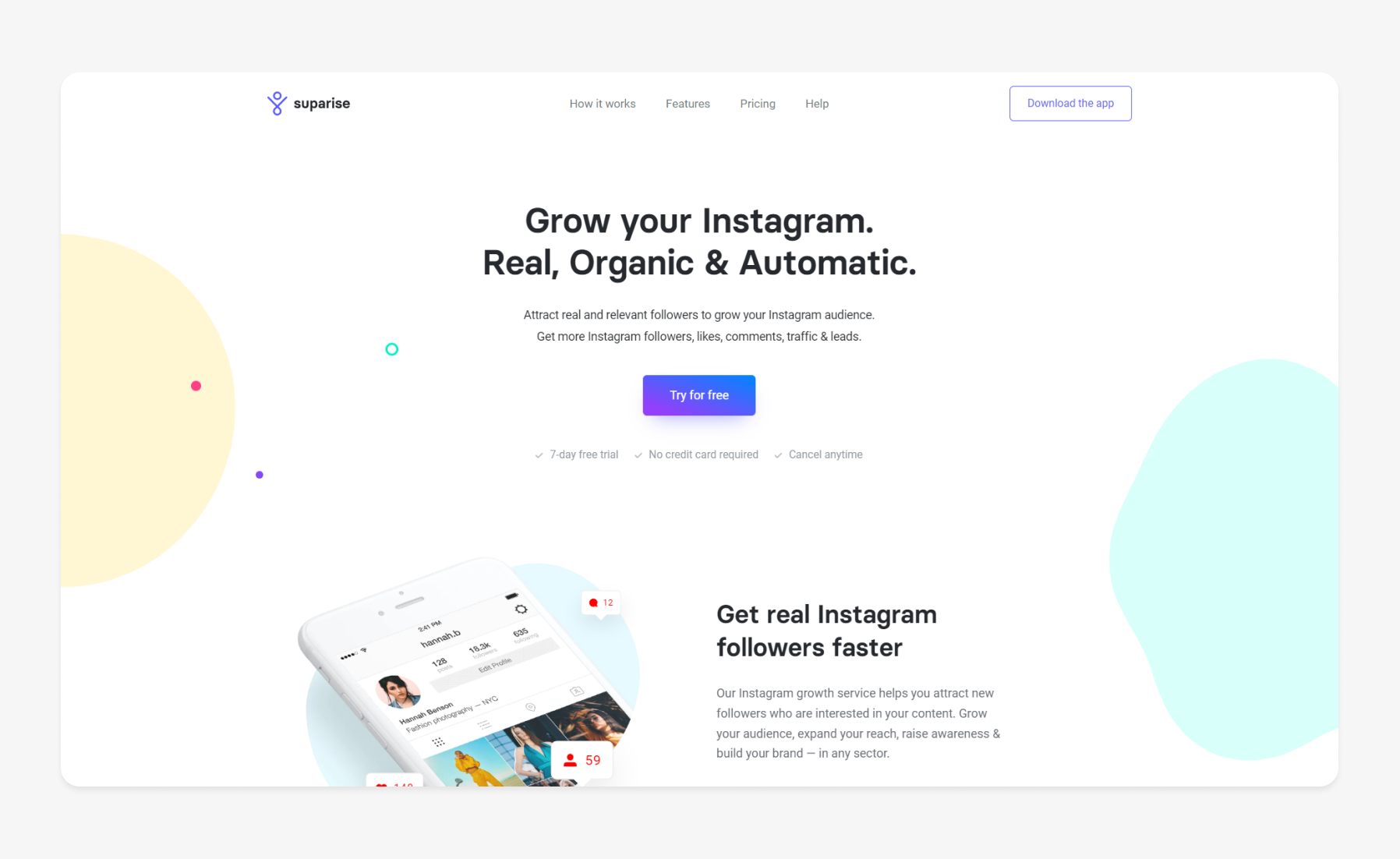 All features are available in our single subscription plan, at $19/month.
Gain free Instagram followers during the 7-day free trial, which can be extended upon request.
Good luck with the growth!